Cambria®, Landmark™, Sonnenland®, Stayfast®, Twillfast®
Recommended Products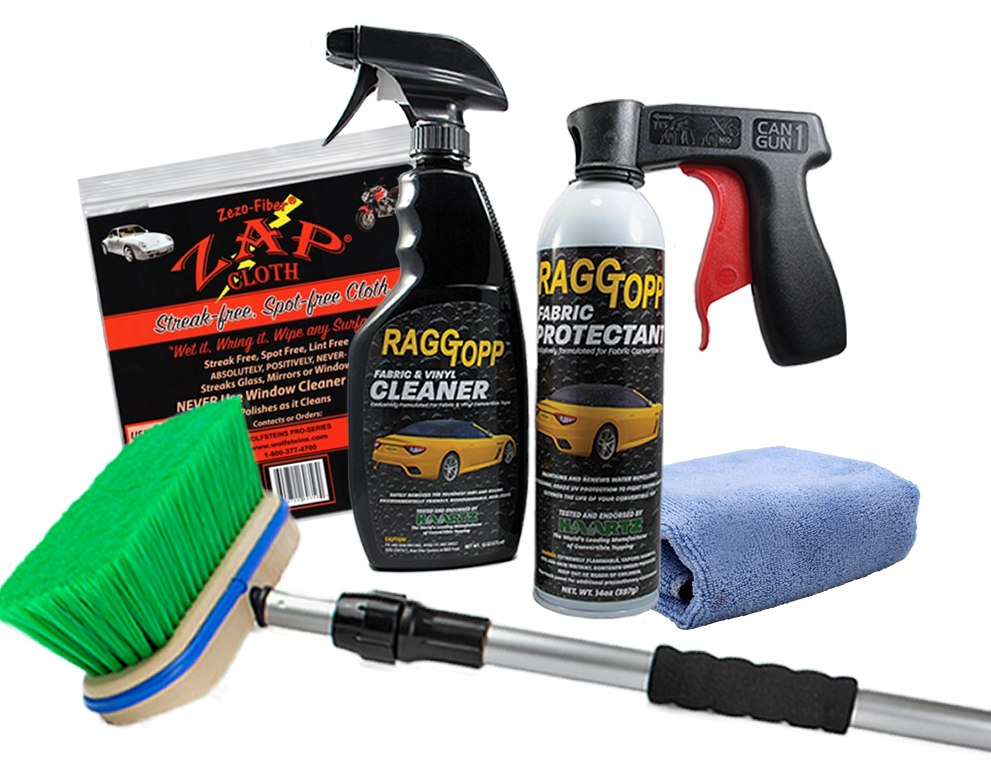 We've partnered with Wolfsteins, maker of RAGGTOPP convertible care products, to develop a customized premium care kit. The package includes the brand new extendable cleaning brush. The telescoping handle and hose attachment make cleaning your soft top an absolute breeze. The kit also offers RAGGTOPP's signature, professional-grade cleaner and protectant as well as a variety of high-performing accessories. Visit Wolfsteins.com to order.
Solution Dyed Acrylic and Acrylic/Polyester Topping Fabric
Haartz convertible top fabric will not promote mildew growth by itself; mildew may develop as the result of dirt and other foreign substances that are not removed. This is especially true in warm, humid, dark environments. The accumulation of soil and potential mildew can compromise the durability and appearance of the topcover. A program of keeping the fabric clean through regular washings, BEFORE it gets dirty, will enhance the life and beauty of the top and make successive cleanings easier. A first stop for information specific to your top's cleaning can be found in the vehicle owner manual. Haartz makes the following recommendations:
Most automatic car washes will not harm cloth top fabrics. Washes with low pressure water jets and hanging cloths provide a more gentle cleaning action. Those using heavy barrel brushes could damage the top material. Haartz recommends hand washing in compliance with local laws and regulations.
RAGGTOPP Cleaner, RAGGTOPP Premium Convertible Top Brush, and RAGGTOPP Protectant available from Wolfsteins Pro-Series and are recommended by Haartz. These products can be ordered by calling 800-377-4700, or by e-mailing info@wolfsteins.com.
Hand washing in shade or partial shade is best (try to avoid direct sunlight). DO NOT USE DETERGENT. Bird and tree droppings, as well as other loose particle soils, should be removed immediately. Vacuum with a brush attachment and rinse thoroughly with water to remove loose particle soils. This will also prevent the soils from being redeposited during the cleaning process. Once the fabric has been rinsed thoroughly, spray RAGGTOPP Cleaner* evenly over the entire surface while still wet. Allow the cleaner to soak for 10 to 20 minutes and then scrub lightly with the RAGGTOPP Premium Convertible Top Brush, a soft nylon brush, or a terry cloth rag. Rinse thoroughly, until no remaining soap foam is observed. Additional cleanings may be required. It is best to determine the need for additional cleanings after the fabric has dried completely.
For more stubborn cases (on all materials besides Sonnenland Classic), mix a solution of no more than 1/2 cup (4 oz or 120 ml) standard household bleach (3-8% Sodium Hypochlorite solution; Clorox/Dan Klorix brand or similar) and 1/4 cup (2 oz. or 60 ml) RAGGTOPP Cleaner per gallon (3.8 liter) of water. Let the solution soak into the roof material for approximately 20 minutes and scrub lightly as indicated above (excessive soaking with the bleach solution can deteriorate seam threads). Rinse thoroughly to prevent streaking on painted and chrome surfaces. Additional cleanings may be necessary.
Avoid the use of bleach or chlorine-containing cleaning agents on Sonnenland Classic in any situation.  
Once dry, add water repellant, such as RAGGTOPP Protectant (this product does not contain CFCs and is not harmful to the environment). Failure to apply protectant will result in the fabric soiling again quickly.
As a general rule, softtops should be stored with the roof in the up/closed position for any extended periods of time.  Never store the top down/open while wet.  Avoid wrapping the top or vehicle for extended storage with any material that isn't breathable.  
Stayfast, Twillfast, Cambria and Sonnenland are registered trademarks of The Haartz Corporation.

Landmark is a trademark of The Haartz Corporation.

RAGGTOPP is a trademark of Wolfsteins Pro-Series.
* Washing with a non-detergent soap (ie. Ivory or Lux) and warm water is a safe alternative to RAGGTOPP Cleaner, but not as effective.