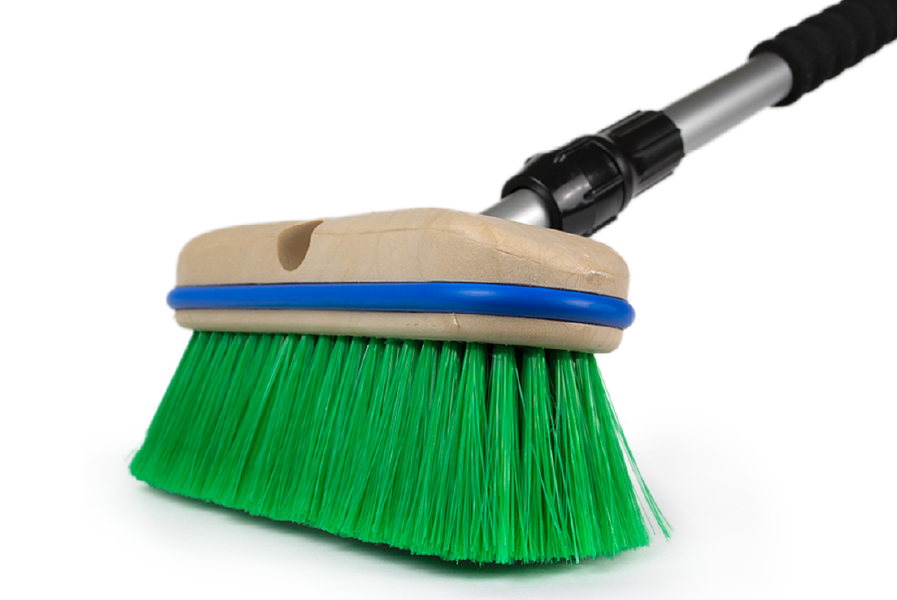 Posted Online (January 5, 2021) - With the rising popularity of open-air SUVs, like the Jeep and Bronco, as well as demand for easier cleaning for large convertible tops and tonneau covers for pickup trucks, The Haartz Corporation and Wolfsteins Pro-Series partnered to develop a new telescopic brush for care and cleaning.
"We received a lot of feedback from our customers who were looking for a tool that wouldn't damage their softtop or tonneau cover, but that was large enough to reach across the vehicle," said Matthew Williams, vice president, global automotive exteriors and new markets. "With the success of the RAGGTOPP Premium Convertible Top Brush that was introduced, this was a seamless project to partner with Wolfsteins to develop."
The premium, large convertible, softtop and tonneau cleaning brush is 9-inches long with bristles that are 2.5 inches deep. They are made from fibrillated Nylex which are soft, yet strong, to gently loosen dirt and debris from the softtop. The bristles clean gently and do not damage acrylic cloth or vinyl convertible top materials. The brush attaches to a telescoping pole that is three feet long and can extend up to five feet.
"Wolfsteins Pro-Series is always striving to create the best cleaning and protection products for softtops and tonneau covers, while continuing to design consumer-friendly products that make the job quicker and easier for the user," said Rick Goldstein, founder and CEO of Wolfsteins Pro-Series.
A standard size hose can be attached to the rear of the Premium Telescopic Brush Pole to allow water to flow through while cleaning. As water flows through the bristles of the brush, cleaning is much more efficient.
The premium, large convertible, softtop and tonneau cleaning brush, along with fabric cleaner and protectant is for sale now at Wolfsteins.com