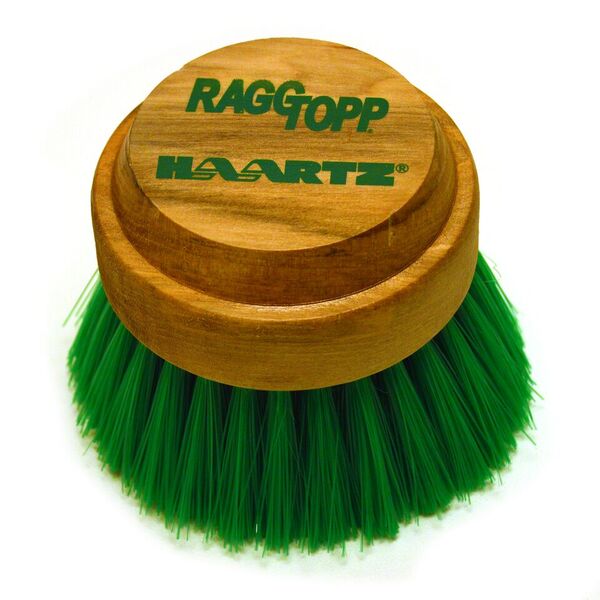 The Haartz Corporation and Wolfsteins Develop New Cleaning Brush Exclusively for Soft-Top Convertibles - Acton, Mass. - (Sept. 6, 2016) - Care and maintenance is critical to extending the life of a vehicle – whether it's the engine or the exterior. The Haartz Corporation, the world's leading supplier of convertible soft-top material understands the importance, which is why they partnered with Wolfsteins, maker of RaggTopp convertible care products to develop a customized premium convertible top brush.
The RaggTopp Premium Convertible Top Brush is the first brush developed and endorsed by The Haartz Corporation in the company's 109-year history. The brush's bristles are made from fibrillated Nylex, which is soft, yet strong, to gently loosen the dirt and debris from the convertible top. The bristles clean gently and do not damage acrylic cloth or vinyl convertible tops materials.
"We manufacture our topping products to the exacting specifications of the world's leading automakers. Extending that precision to the development of a brush that effectively cleans the topping while minimizing damage to the fabric seemed like a natural step," said Matthew Williams, director of business development for The Haartz Corporation. "Through our partnership with Wolfsteins on RaggTopp cleaning products, it made perfect sense for both of our organizations to develop a tool to help convertible owners protect their investment."
"Our partnership with Haartz on the RaggTopp cleaner really helped to set the groundwork for development of this brush," said Rick Goldstein, chief executive officer and co-founder of Wolfsteins Pro Series. "By working directly with Haartz we have had access to key research, development and testing. This has enabled us to partner on a brush that coupled with our other cleaning products will help owners maintain that new car shine for their convertibles."
The brush features an ergonomically designed natural wood block that's easy to grip, making cleaning the entire convertible top near effortless.
The RaggTopp Premium Convertible Top Brush is for sale now on AutoGeek.net.
About The Haartz Corporation
The Haartz Corporation (Haartz) is a world leader in highly engineered and uniquely designed convertible toppings and interior surface materials. The company's world headquarters and North American manufacturing operations are located in Acton, Massachusetts, with additional manufacturing in Mannheim, Germany and coming soon to Pune, India. Beyond these manufacturing locations, Haartz maintains offices in Detroit, Munich, Tokyo, Irapuato, Mexico, Shanghai and Chongqing, China. In April 2016, the company announced a strategic alliance for the Chinese automotive market by entering a joint venture with the Minth Group. The new company will be known as Haartz-Minth (Ningbo) Automotive Ltd. Employing over 500 people worldwide, Haartz has been a trusted automotive supplier since 1907, and continues to be privately owned and operated by the Haartz family. For more information, visit www.haartz.com. Join the conversation on Twitter, @Haartz.
About Wolfsteins
Atlanta-based WOLFSTEINS PRO SERIES was founded in 1996 by two ragtop enthusiasts who were seeking an answer to the question: how do clean and protect a convertible top? After years of research and development, the company created a line of cleaner and protectant solutions that finally solved this age-old question. For more information, visit www.wolfsteins.com