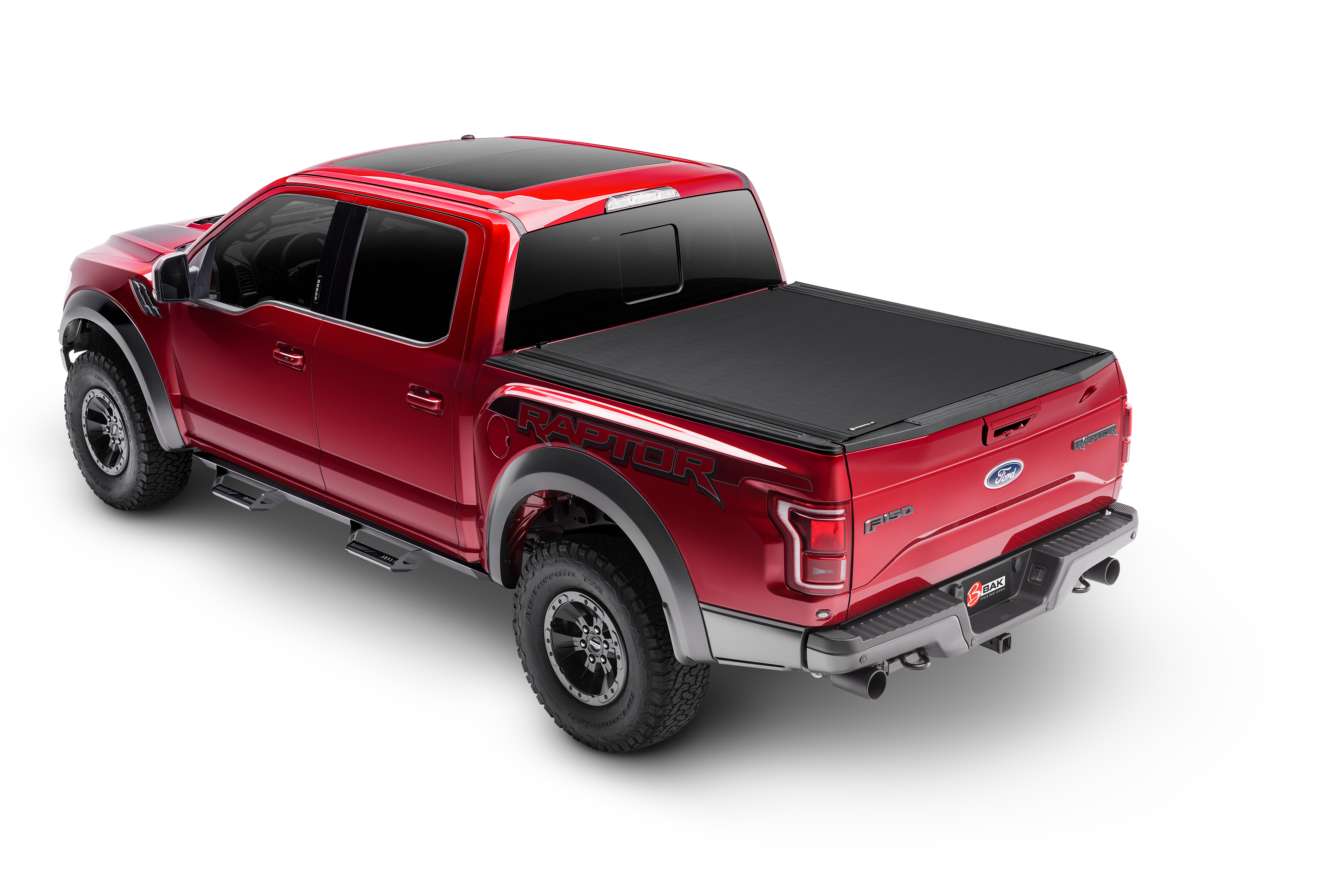 Acton, Mass. (Jan. 8, 2018) – The Haartz Corporation developed a new material for BAK Industries' highly anticipated Revolver X4 tonneau cover. The cover, when closed, includes heavy-duty aluminum slats that secure the cover the full length of the bed on both sides, providing unrivaled strength and security.
The material's durability is thanks to the polyvinyl chloride (PVC)-coated polyethylene terephthalate (PET) needlepunch nonwoven substrate. Unique to the Revolver X4 is the cabrio-grain embossing, which gives it a pebble-looking finish.
"The embossing for this material is a specialty of ours, and we employed it along with a low-lustre topcoat system to achieve the desired aesthetics, making it truly unique for BAK Industries," said Gordon Goodwin, sales manager, automotive exteriors at the Haartz Corporation. "Also unique to the Revolver X4 are the matte finish rails and seals, for a finished OEM look."
The heavy-duty aluminum slats are topped with industrial-grade, matte finish vinyl, accompanied by new matte finish rails and seals that better match the bed rails on trucks compared to standard materials, making it a seamless consumer product.
The Revolver X4 will launch in January 2018. Stay up to date with the product's availability on the BAK Industries website.
About The Haartz Corporation
The Haartz Corporation (Haartz) is a world leader in highly engineered and uniquely designed convertible toppings and interior surface materials. The company's world headquarters and North American manufacturing operations are located in Acton, Massachusetts, with additional manufacturing in Mannheim, Germany and Pune, India. Beyond these manufacturing locations, Haartz maintains offices in Detroit, Munich, Tokyo, Irapuato, Mexico, Shanghai and Chongqing, China. Employing over 400 people worldwide, Haartz has been a trusted automotive supplier since 1907, and continues to be privately owned and operated by the Haartz family. For more information, visit www.haartz.com. Join the conversation on Twitter, @Haartz.
About BAK Industries
BAK Industries is a Springfield, MO based manufacturer of hard composite folding, rollup and retractable tonneau covers. Founded in 1988 as a plastics manufacturer of bed liners and caps, BAK entered the tonneau cover market in the early 2000's with a manually operated retractable cover – quickly expanding into a number of other styles including a quad-folding and aluminum slat roll-up. For more information, please visit our website at bakindustries.com.