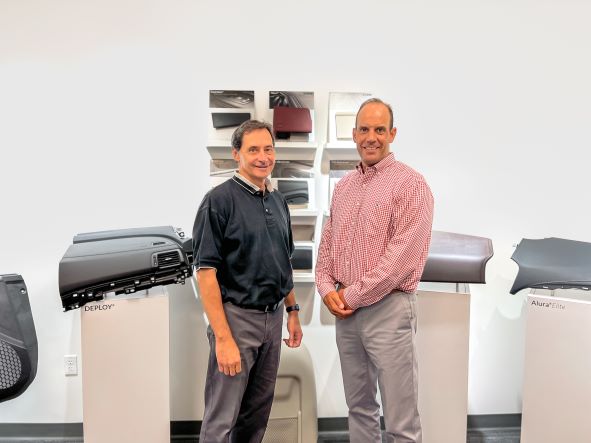 After decades of designing material for automotive exteriors, there was a key change that propelled Haartz to push its boundaries – an added focus to automotive interiors.
Branching off into automotive interiors was made possible by Haartz' strong working relationships with America's most prominent automotive manufacturers like General Motors (GM). Through these partnerships, the company slowly began to expand its horizons, a move that would eventually jumpstart an expansion outside of North America and Europe.
In the 1960s, Haartz had the opportunity to branch off into interiors by producing vinyl seating for General Motors. This relationship would later come into play as it began to expand its boundaries.
"Through the 70s and 80s, Haartz remained a leading producer of vinyl seating for General Motors," shared Tom Daigneault, Vice President of Finance and Treasury for Haartz. "Due to this pre-existing relationship, Haartz was very familiar with the path necessary for producing materials for the interior of automobiles."  
Leveraging its good standing relationship with GM, Haartz began work on an interior soft materials thermoformed project called the WN6T program. The project saw Haartz flex its muscles by pioneering a new technology – a trilaminate construction process that utilized polypropylene foam with a PVC top and polypro base-layer.
"At the time, nobody in North America could make that trilaminate material yet, so we developed a patent for the product," stated Andy Nicoletti, Vice President of Strategic Sourcing and Supply Chain Management for Haartz. "The new process really allowed Haartz to establish itself as a true player in the current industry."
The product was quickly adopted by GM for its largest single platform, the WN6T program, which included vehicles like the Chevrolet Silverado, Tahoe and Cadillac's SUV platform. The patent for the trilaminate material coupled with the high demand from GM set the table for Haartz to become a major supplier of interior components.
While the company was known throughout North America and parts of Europe for its exterior business, it was interiors that pushed Haartz onto the global stage. Growth continued throughout the 1990s and 2000s establishing Haartz as a global automotive player.
"The interior business really allowed us to expand all over Asia and establish Haartz as a true global presence in the automotive industry." Nicoletti added. "Before the interior business, we were a strong auto company in America and in Europe, but not in Japan, China, or the rest of Asia like we are now."
In the years that followed Haartz entry into the world of interior components, the move can be looked at as a spark that lit the fuse of global expansion, new partnerships and continued growth. As Haartz looks to the next 100 years, its ability to maintain relationships, innovate and willingness to push its boundaries will continue to set the company apart.