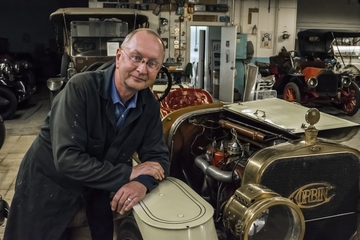 Heart of Haartz - Posted Online - July 8, 2016 – Among the slew of newly minted MBAs in 1979, CEO Eric Haartz joined the Haartz Corporation with a Master's Degree in Geology. "It ended up being fine," Eric said of his unconventional education. "I adapted to the technical side very well. I like to joke that I'm an engineer by absorption."
After several months working at the Haartz Corporation, Eric discovered that having a data-driven mindset actually helped in his managerial role. "Not only can I understand the technical intensity of Haartz manufacturing, but I can also contribute in discussions."
For Eric, participation and hands-on experience have been key assets as CEO. Where Eric's Geology degree has helped him conceptualize the business, a fervent antique car hobby has kept him within tangible distance of the manufacturing process.
Eric's passion for antique cars has resulted in a downright encyclopedic knowledge of antique automotive fabrics. He even keeps a historical reference library, with antique car top material samples dating back to 1910. Eric uses his knowledge—and his samples—to engage with aftermarket customers, helping them restore the automotive fabric on their own antique cars.
"I work with some people here to run custom samples for aftermarket customers. I like running sample rolls because it offers tangibility. I like being engaged with the products we produce."
Eric's participation, understanding, and vision have been vital to the Haartz Corporation's development.
Over the past thirty-seven years, Eric has focused his career on growth. He has helped transform the Haartz Corporation from a company with narrow product focus to a worldwide corporation, which meets automotive trim needs both inside and outside of cars. Eric believes that growth has raised the Haartz Corporation's competitive stature to the top ranks of its industry.
"Companies we once regarded with awe, now look at us as a more serious competitor."
For Eric, a main keystone of growth has been to focus on strategic advances. "It doesn't make sense, given all the variables, for us to focus too heavily on quantitative growth." Instead, he focuses on spreading the company geographically and increasing Haartz's breadth of expertise. "We just have to make sure that while we grow, we also maintain the kind of unity you see in Acton. It's an interesting challenge."
With new and exciting projects—like Haartz's joint venture with The Minth Group—Eric isn't even thinking about retirement. "There's too much great stuff going on and I don't want to miss out!" 
Written by Deborah Stahl
About The Haartz Corporation 
The Haartz Corporation (Haartz) is a world leader in highly engineered and uniquely designed convertible toppings and interior surface materials. The company's world headquarters and North American manufacturing operations are located in Acton, Massachusetts, with additional manufacturing in Mannheim, Germany and coming soon to Pune, India. Beyond these manufacturing locations, Haartz maintains offices in Detroit, Munich, Tokyo, Irapuato, Mexico, Shanghai and Chongqing, China. In April 2016, the company announced a strategic alliance for the Chinese automotive market by entering a joint venture with the Minth Group, the new company, to be known as Haartz-Minth (Ningbo) Automotive Ltd. Employing over 500 people worldwide, Haartz has been a trusted automotive supplier since 1907, and continues to be privately owned and operated by the Haartz family. For more information, visit www.haartz.com. Join the conversation on Twitter, @Haartz.