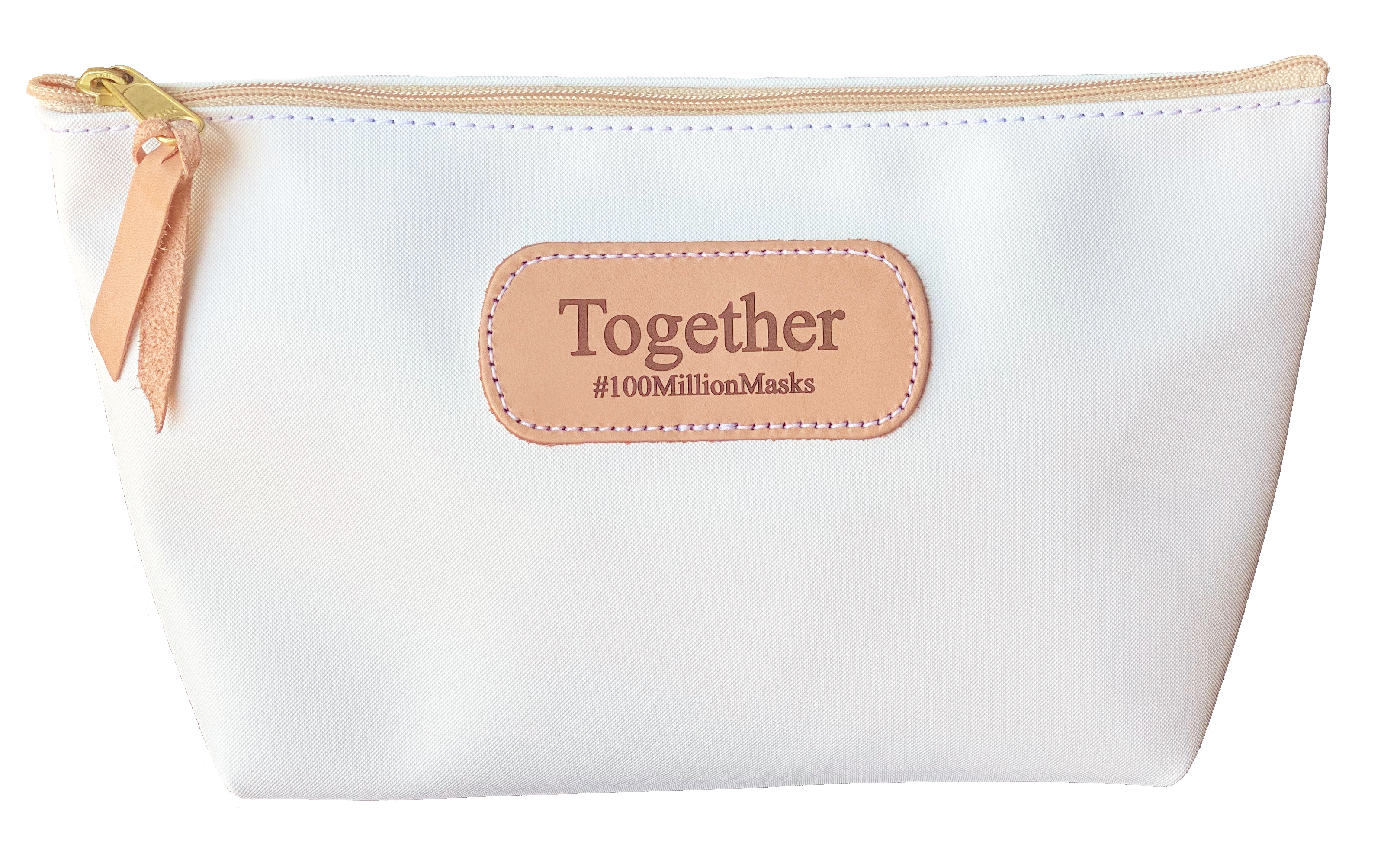 SAN ANTONIO (May 5 2020) - Haartz recently partnered with San Antonio-based handcrafted leather bag designer, Jon Hart Design, on the launch of the Shop For Good campaign offering shoppers the chance to purchase a limited-edition white Grande travel bag with a portion of proceeds from the sale benefiting food banks across Texas through mask donations. Haartz is supplying the special-edition white canvas material for the classic Jon Hart Design bag. The messages 'Together' and '#100MillionMasks' are stamped in leather on the bag, in honor of the companies' efforts to provide masks and funds to those directly impacted by COVID-19.
In addition, when checking out, customers can choose to add a 'buy one, give one' face mask for $15. When customers purchase a Jon Hart Design face mask, the company will donate a mask to local Texas food banks and other community focused non-profits. All Shop For Good white Grande bags and masks can be ordered now and will ship in late May.
Earlier this April, Jon Hart Design redeployed its staff and sewers towards tackling the face mask shortage while forming mask production and material partnerships with Haartz, San Antonio Lighthouse for the Blind, GameGuard, JoAnn Fabrics, and SAS (San Antonio Shoe) in order to increase production and fill orders.
Haartz supplies canvas material to Jon Hart for a number of their products. The two organizations have been partners for more than 20 years.
About Jon Hart Design
For more than 40 years, Jon Hart Design has produced high-quality American handcrafted leather bags,
travel goods and accessories in San Antonio, Texas. Jon Hart Design is proud to have never taken
production overseas, employing many of the same artisans for multiple decades. Currently, Jon Hart ships fine leather and canvas bags handcrafted in the USA to all 50 states and products are available at more than 500 retailers across the country. For more information please visit jonhartdesign.com and follow along on Instagram, Facebook and Twitter at @jonhartdesign.
About The Haartz Corporation
The Haartz Corporation (Haartz) is a world leader in highly engineered and uniquely designed convertible
toppings and interior surface materials. The company's world headquarters and North American
manufacturing operations are located in Acton, Massachusetts, with additional manufacturing in
Mannheim, Germany and Pune, India. Beyond these manufacturing locations, Haartz maintains offices in
Detroit, Munich, Tokyo, Irapuato, Mexico, Shanghai and Chongqing, China. Employing over 400 people
worldwide, Haartz has been a trusted automotive supplier since 1907, and continues to be privately
owned and operated by the Haartz family. For more information, visit www.haartz.com. Join the
conversation on Twitter, @Haartz.