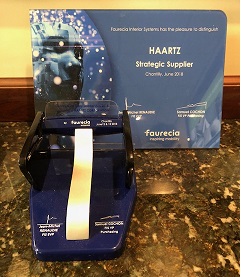 Acton, Mass. (June 27, 2018) The Haartz Corporation, a world leader in highly engineered and uniquely designed interior trim materials and convertible toppings, was honored with a Quality and Delivery Leadership award at the Faurecia Interiors Strategic Supplier Event, which took place in Chantilly, France on June 12-13, 2018. The award recognizes Haartz's efforts in supplying interior trim materials to vehicles such as the Ford Mustang, F150, EcoSport and Expedition; and the Cadillac ATS, XT5 and GMC Acadia, among others. 
"Our interior materials are uniquely engineered to the specific requirements of each vehicle, with quality in mind," said John Fox, president of The Haartz Corporation. "Being recognized for outstanding quality and delivery gives validation to all of the hard work by our team. We strive for a culture of excellence and we feel lucky to serve partners who have that same drive."
Nearly 70 of Faurecia's top, strategic suppliers were in attendance at the event. Out of five awards given to suppliers Haartz was the sole quality and delivery award. Haartz received a plaque to commemorate its selection as a Faurecia strategic supplier in 2018.
The award was presented by Jean-Michel Renaudie, executive vice president of Faurecia Interiors, and Samuel Cochon, vice president of purchasing of Faurecia Interiors. This event's aim was to provide Faurecia Interiors business insights, strengthen relationships and align sustainable and profitable business goals among suppliers.
To learn more about Haartz please visit www.haartz.com.
About The Haartz Corporation
The Haartz Corporation (Haartz) is a world leader in highly engineered and uniquely designed convertible toppings and interior surface materials. The company's world headquarters and North American manufacturing operations are located in Acton, Massachusetts, with additional manufacturing in Mannheim, Germany and Pune, India.  Beyond these manufacturing locations, Haartz maintains offices in Detroit, Munich, Tokyo, Irapuato, Mexico, Shanghai and Chongqing, China.  Employing over 400 people worldwide, Haartz has been a trusted automotive supplier since 1907, and continues to be privately owned and operated by the Haartz family. For more information, visit www.haartz.com. Join the conversation on Twitter, @Haartz.