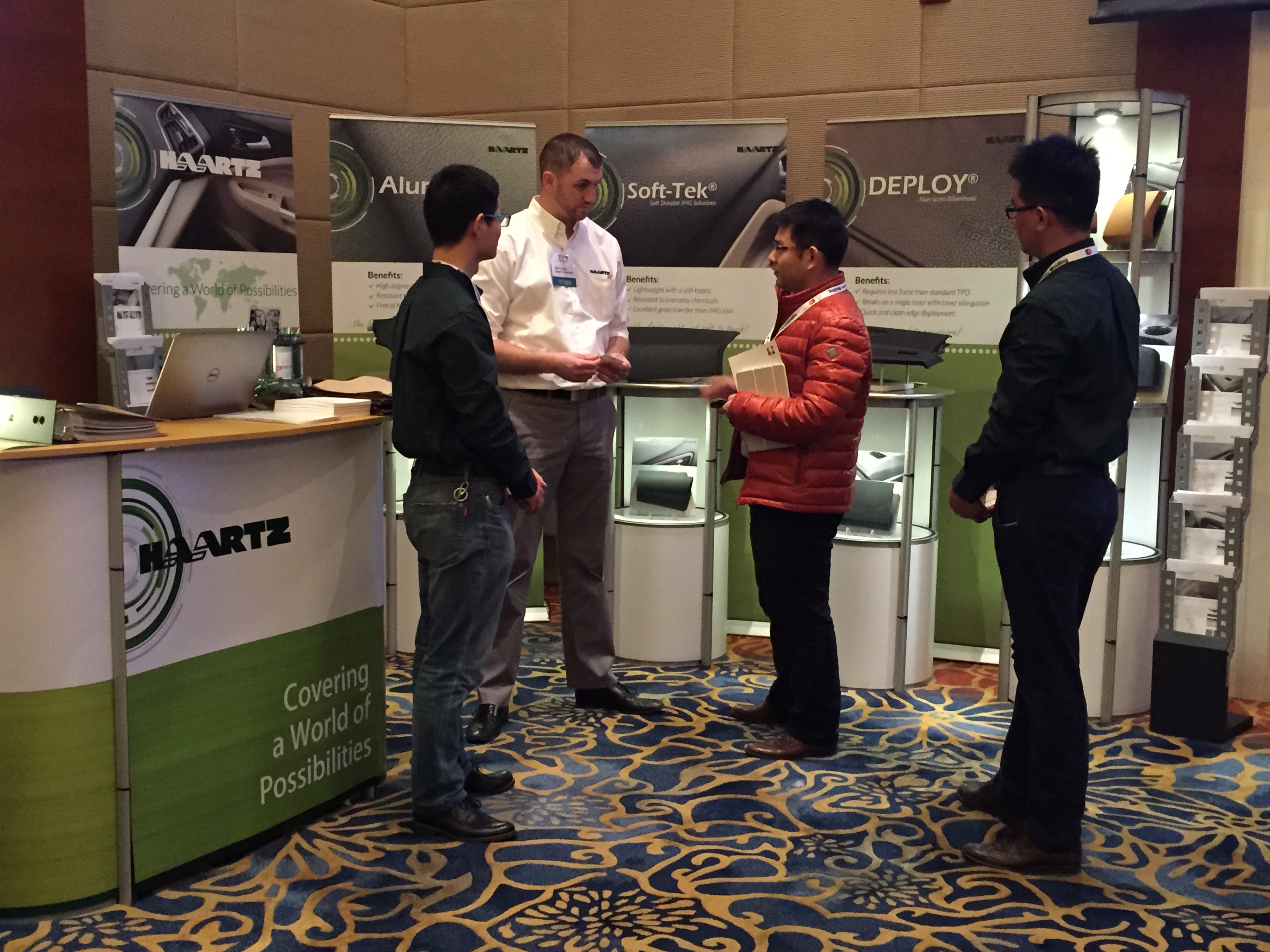 Inaugural exhibition highlights the latest technology in olefins for automotive applications.
Shanghai, China (March 22nd, 2015) – Haartz Corporation joins the many suppliers to support the first annual SPE TPO Conference in Shanghai.  With over 200 attendees from Chinese OEMs, Tier 1s and Tier 2 this event has created quite a buzz in the Chinese automotive market.
Dan Feeney, Senior Engineer Global Business Development introduced the Haartz Corporation and the new innovations in Moldable TPO laminates featuring Soft-Tek® and DEPLOY® .  "The enhanced touch of Soft-Tek® is being used on both instrument panel and door panel applications supporting the trend for more luxurious interiors.  It is currently featured in Chinese vehicles like the Ford Fusion, Ford Edge and Cadillac XT5" said Dan.   DEPLOY® has eliminated the need to pre-score reducing Tier 1 system cost and improving perceived quality for the end use customer.
In the afternoon, John Millea, Director of Research and Business development presented the unique topcoat/lacquer developments Haartz has recently engineered.  "The new challenge has been to create a defense on the surface of the TPO material that will protect against the variety of everyday consumer products like bug spray and suntan lotion", said John.  These seemingly harmless products can attack the material's surface and require extensive development to meet the OEM stringent test methods.
Both presentations and booth have been well attended and have positioned Haartz as a key player in the supply of interior automotive surface materials for the Chinese and Global markets.
About The Haartz Corporation 
The Haartz Corporation (Haartz) is a world leader in highly engineered and uniquely designed convertible toppings and interior surface materials. The company's world headquarters and North American manufacturing operations are located in Acton, Massachusetts, with additional manufacturing in Mannheim, Germany and coming soon to Pune, India.  Beyond these manufacturing locations, Haartz maintains offices in Detroit, Munich, Tokyo, Delhi, Irapuato, Mexico, Shanghai and Chongqing, China.  Employing over 400 people worldwide, Haartz has been a trusted automotive supplier since 1907, and continues to be privately owned and operated by the Haartz family. For more information, visit www.haartz.com. Join the conversation on Twitter, @Haartz.