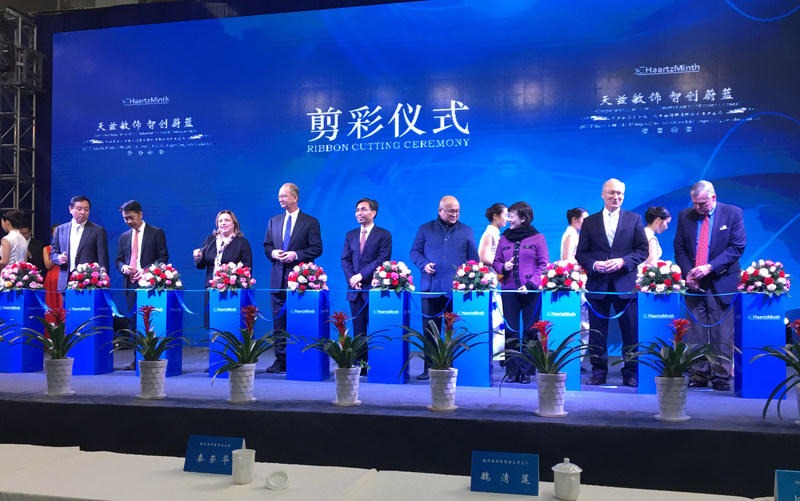 Acton, Mass. (Dec. 8, 2017) – Today, Haartz Minth (Ningbo) Automotive Ltd., announced the grand opening of its new facility in Chunxiao, part of the Beilun district of Ningbo in China. As the initial investment of a strategic partnership announced in April 2016, the facility is intended to serve the growing Chinese automotive market.
"With China now the number one market in the world for automobile production, it is critical for us to have a strong, local presence – from production to sales to technical support at the customer level," said John Fox, president of the Haartz Corporation. "The partnership focuses primarily on our traditional original equipment manufacturers (OEMs) and Tier 1 customers. We expect to also pursue Chinese manufacturers in the very near future."
As a leading supplier of soft-trim materials for the automotive interiors market, implementation of Haartz technology and know-how will drive production at the facility. Manufacturing is moving quickly through startup procedures, with plans for rapid scale up through the end of 2017 and into the first quarter of 2018. It will initially focus on thermoplastic olefin (TPO) foils for soft trim applications such as interior door panels, instrument panels and center consoles. The use of soft trim for these applications is growing at a rate faster than the overall growth in vehicle production, as many OEMs are moving to a more luxurious interior. The new joint venture facility is ideally suited to serve the highly technical, fast-growing automotive market of today, and will be compatible with China's drive for advanced manufacturing.
"We are privileged to partner with Minth and their broad capabilities," said Fox. "Over the last 25 years, they have proven their commitment to the automotive market and understand the requirements of doing business with a sophisticated and demanding customer base."
Established in 1992, the Minth Group began as a small factory located outside of Ningbo, China. Minth has since expanded to become a $1.4 billion international corporation, with sales in 29 countries, 10 regional business units, and 41 factories throughout the world. The company has become a leading supplier in design, manufacturing and sales of body structural parts, trims and decorative parts of passenger vehicles. 
About The Haartz Corporation
The Haartz Corporation (Haartz) is a world leader in highly engineered and uniquely designed convertible toppings and interior surface materials. The company's world headquarters and North American manufacturing operations are located in Acton, Massachusetts, with additional operations in Mannheim, Germany, Ningbo, China and Pune, India. Beyond these manufacturing locations, Haartz maintains offices in Detroit, Munich, Tokyo, Irapuato, Mexico, Shanghai and Chongqing, China.  Employing more than 500 people worldwide, Haartz has been a trusted automotive supplier since 1907, and continues to be privately owned and operated by the Haartz family. For more information, visit www.haartz.com. Join the conversation on Twitter, @Haartz.
About The Minth Group
The Minth Group has numerous facilities in China and nine additional production facilities around the world. Minth is a leader in production of molded trim and decorative parts for exterior body, structural body parts, seat frames, and roof racks. The company has invested in advanced production lines with processes including extrusion, co-extrusion, stamping, injection, surface treatment, plating, chroming, anodizing, and more. Minth has also formed strategic alliances with world-renowned auto-parts producers. The Minth group is listed on the Hong Kong Stock Exchange (0425).