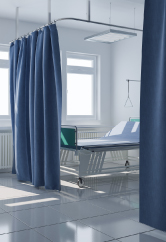 Haartz can provide material for custom and pop-up medical tents and for building temporary wall dividers used in medical examination rooms at facilities that are experiencing overcrowding amid the COVID-19 pandemic. Materials can be cut to fit any existing or custom-built medical tent structure quickly and easily.
"Our experience in automotive exterior fabrics translates well for these applications," said Matthew Williams, vice president, global automotive exteriors and new markets. "In addition to being acoustically enhanced, our materials are mildew and stain resistant, easy to clean, waterproof and UV-resistant, so they are well-suited for temporary field hospitals that are in areas hardest hit by the pandemic."
There are a number of considerations for these temporary medical facilities. A protective coating layer enhances cleanability and skid resistant properties allow for safer workspaces and increased productivity. Improved sound blocking performance will provide privacy between patients and caregivers. They are also waterproof and fire resistant.
Additional information can be found at haartz.com/medical-materials
About The Haartz Corporation
The Haartz Corporation (Haartz) is a world leader in highly engineered and uniquely designed convertible toppings and interior surface materials. The company's world headquarters and North American manufacturing operations are located in Acton, Massachusetts, with additional manufacturing in Mannheim, Germany and Pune, India. Beyond these manufacturing locations, Haartz maintains offices in Detroit, Munich, Tokyo, Irapuato, Mexico, Shanghai and Chongqing, China. Employing over 400 people worldwide, Haartz has been a trusted automotive supplier since 1907, and continues to be privately owned and operated by the Haartz family. For more information, visit www.haartz.com. Join the conversation on Twitter, @Haartz.