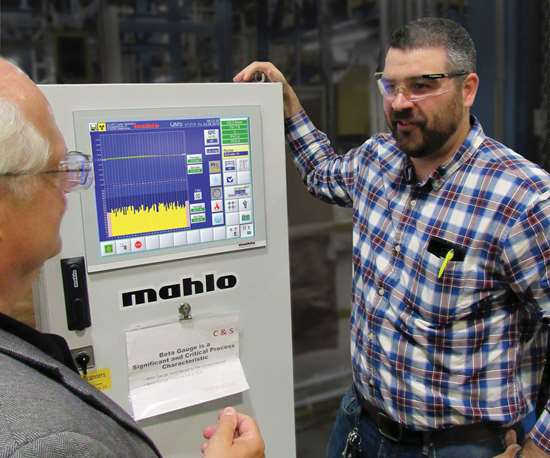 After conducting a worldwide search of web-gauging and control systems in 2012,
sheet processor Haartz selected Mahlo, and now has 15 scanners running Worldwide.
Pictured John Gilbert, Haartz's senior process engineer (right) and Eric Reber, Mahlo's
North American sales manager.
Family owned and in business more than 100 years, Haartz Corp., Acton, Mass., is the
world's leading supplier of automotive topping fabrics and a leading producer of soft-trim
car interior materials. Roll and sheet goods made by Haartz can be found in almost every
automotive brand worldwide, especially in convertible tops.
In Acton, surface effects such as simulated leather are embossed into extruded PVC, TPO
or other compounds to create formable and hand-wrap materials. These materials are
used in door panels, seats, console lids, instrument panels, and more for automakers from
Nissan to BMW. Some lines are set up to extrude material onto a thin layer of foam, giving
the trim more cushion. Haartz also extrudes plastic between two layers of fabric.
In 2012, an effort to streamline production focused on the company's web gauging and
control systems. "Back then, our web scanners were made by two well-known
manufacturers," recalls John Gilbert, senior process engineer in Acton. "Our people
wanted to find the best scanner brand for us as we began planning the upgrade of our
extrusion lamination lines."
Haartz typically runs at thicknesses ranging from 0.5 to 1.3 mm. Strict control of the
extrusion process is critical to meeting Tier 1 supplier specs as well as IATF16949
Automotive Quality standards. Going outside standard deviation limits risks failing spec
and wasting material. So, by employing just one brand of gauging system across the
board, Haartz could enable all line operators to gain a better knowledge of the system
selected and produce more consistent and efficient products.
"Because we run the lines on a 24/5 or 24/6 basis, our operators need to move from line
to line so vacations, sick days, and shift changes can be well covered," Gilbert said. "It
was crucial to select a system they all could easily adapt to and that could fulfill all our
requirements as we pushed our capability."
KICKING ALL THE TIRES
The company wanted the best system for its future. "We talked with every major
manufacturer out there," Gilbert explains. "Our search included a parade of presentations
and proposals, plus dozens of site visits over many months and several states."
What they learned surprised everyone on the selection team. One brand not only fit all
their needs, but Haartz found the differences between a system provided by Mahlo
America, Spartanburg, S.C. (mahloamerica.com) those from all other vendors were
"stunning." The team's first impression was that the machine "is built like a tank." As a
bonus, most Mahlo parts are easily sourced from aftermarket suppliers--even motors and
circuit boards. "With our legacy scanners we were compelled to sign service contracts,"
Gilbert admits. "After X number of years, the manufacturers stop supporting them. We
were expected to buy new." 
Gilbert adds, "Mahlo said they still support scanners 25 and 30 years old. That moved
them to our short list." Still, changing control systems is a challenge. Change can cause
people to fear making mistakes, losing control. "Once operators learn a system they don't
want to give it up," Gilbert said. What's more, Haartz has high standards to maintain. With
operations in the U.S., Mexico, Germany, India, China and Japan, changes at the
headquarters plant can have a global impact.
Two things about Mahlo America gave the Haartz decision makers the encouragement
they needed. "Although the system had all the bells and whistles a process engineer
craves, the Windows Embedded-based interface is very intuitive," Gilbert notes. "It's so
simple, our production crews took over after just 10 or 15 minutes of training. "Second,
and probably most important, every person we met and spoke with at Mahlo knew their
system thoroughly. And they totally understood our processes and challenges."
Haartz installed its first Mahlo scanner in 2013 to test its performance in measuring total
weight on a line producing material for nose and tire covers. As product requirements and
challenges mounted, Haartz was easily able to assimilate Mahlo scanners into its other
lines, measuring total weight, then film weight and laser thickness on the substrate,
followed by full Auto Profile Control (APC) of the film weight. "The Mahlo APC gets up to
production speed fast. Less material is wasted, and uptime maximized," Gilbert noted.
"Our crews and engineers were all in favor of the change."
By the end of 2018. Haartz will have 15 Mahlo scanners online worldwide. "Lots of
companies sell scanners that could probably meet our needs," Gilbert states. "The real
difference for us was the technical aptitude and service attitude of Mahlo's people. Any
time an issue comes up, Mahlo's staff makes getting us back online their first priority."
"Only twice since our first Haartz installation have we had to make an on-site service call,"
notes Eric Reber, North American sales manager at Mahlo America Inc. "We have
received the occasional call along the way, but these issues were addressed quickly
through our TeamViewer service."
The TeamViewer program is a secure remote-access service licensed with every Mahlo
system sold. With it, users can give technicians temporary access to the control
interface online in real time. This allows a technician to diagnose the system quickly and
remotely. "TeamViewer can also be used to provide remote training for operators or
engineers. Mahlo Telephone Support and TeamViewer service is included at no charge,
around the clock, for the life of our system," Reber notes.
Another feature on every Mahlo Auto Profile System is the die-bolt heater-failure alert.
Haartz discovered that some of their legacy systems had quite a few dead die bolts and
their graphs were giving them excessively averaged readings. "Mahlo systems graph in
high resolution like a real-world sheet and give us an alert for any die bolt that's not
responding," says Gilbert. "We've been able to reduce our scan-to-scan standard
deviation to about 0.5% from greater than 2% previously. Also, seeing both the new scan
and composite average on a single profile graph is a great feature."
In addition to limiting waste in its manufacturing processes, Haartz strives to be "locally
green" with its neighbors, communities and customers as one way to cut its carbon
footprint. Haartz sources raw materials locally when possible, recycles TPO and PVC, and
encourages carpooling. Continuous education and training, workplace safety, on-site
fitness facilities and community-outreach programs are credited with keeping the average
employee retention high.
"Maybe it's a thing about family-operated companies, but we really like Mahlo's simple,
'Old World' business approach." Gilbert concluded, "Mahlo doesn't make machines in
order to sell proprietary parts and service contracts. They engineer scanner systems that
help support and strengthen our brand. That makes for a lasting business relationship."
Article Post: 11/30/2018
JIM CALLARI 
Editorial Director, Plastics Technology