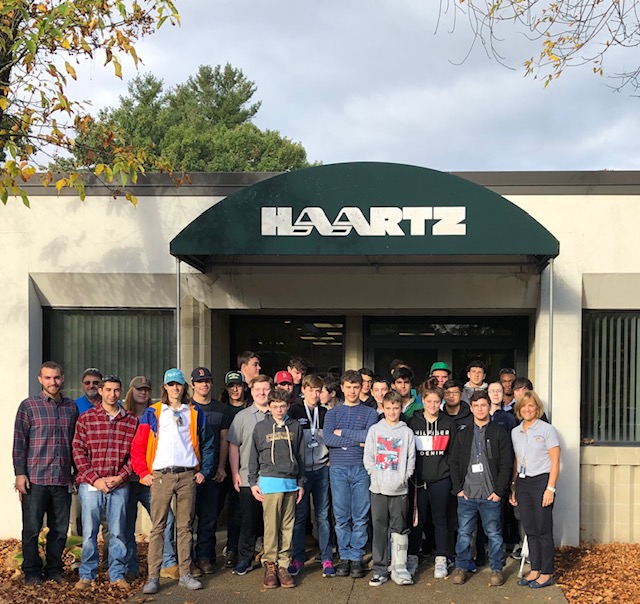 High School Students Visited Haartz Plant for National Manufacturing Day
Acton, Mass. (Oct. 4, 2019) - The Haartz Corporation hosted 32 students from Minuteman Regional Vocational Technical High School in Lexington, Massachusetts for National Manufacturing (MFG) Day. The students were sophomore and senior levels taking classes in advanced manufacturing, robotics, engineering and metals.
While at Haartz, the students toured the plant and learned about the different materials Haartz produces for the automotive and affiliated markets.
"National Manufacturing Day is just one initiative Haartz supports to encourage students who have interest in STEM and manufacturing, an area that is in need of future workers" said Mary Tighe from the Haartz Corporation. "We also have a robust summer intern program. This year we hosted 23 students in a variety of departments."
MFG Day has become an annual event for the company as they do their part to expose students to the career opportunities in manufacturing.
Importance of MFG Day
In 2014 President Obama recognized the first Friday in October #NationalManufacturingDay or MFG Day. Even though the holiday was celebrated long before that, to honor jobs in skilled trades, the proclamation reinstated the country's commitment to the industry.
As baby boomers begin to retire this leaves job openings in many skilled trades. As many as 31 million in 2020 alone. Bringing attention to this career path through events such as MFG Day allow students to get a firsthand perspective of the diverse jobs available in the
manufacturing industry.
This summer Haartz hosted interns from all over the country at their Acton plant. These young people worked in a variety of departments taking away valuable work experience in the manufacturing field. Check out their profiles on Haartz social media.
About The Haartz Corporation
The Haartz Corporation (Haartz) is a world leader in highly engineered and uniquely designed convertible toppings and interior surface materials. The company's world headquarters and North American manufacturing operations are located in Acton, Massachusetts, with additional manufacturing in Mannheim, Germany and Pune, India. Beyond these manufacturing locations, Haartz maintains offices in Detroit, Munich, Tokyo, Irapuato, Mexico, Shanghai and Chongqing, China. Employing over 400 people worldwide, Haartz has been a trusted automotive supplier since 1907, and continues to be privately owned and operated by the Haartz family. For more information, visit www.haartz.com. Join the conversation on Twitter, @Haartz.