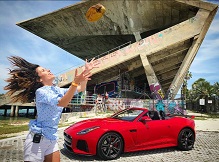 Posted Online (May 11, 2018) - Spring is in the air, tops are dropping on vehicles from coast-to-coast, and Haartz will be at the center of the great events listed below. We'll also participate in a discussion on autonomous vehicles taking place at the Massachusetts Institute of Technology:
Motor Press Guild's (MPG) Drop Tops & Dirt – May 15– Malibu, California
This event combines the best of both worlds - competitive comparisons on challenging roads and trails in off-road vehicles, as well as drives through scenic roads in convertibles in Malibu. While this is a members-only event, be sure to check in on our Twitter and Instagram to check out the photos that best depict the California convertible lifestyle
Ocean State Jeepsters Go Topless Day – May 19 – Monson, Massachusetts
This is our first year participating in Go Topless Day here in the metro Boston area. The East coast flagship event is held by the Ocean State Jeepsters on May 19. If you're in the area, or a Jeep enthusiast, be sure to visit us. We'll have a survey for attendees to take with the chance to win a prize. We're hoping to participate in some Jeep trail drives, too.
New England Motor Press Association (NEMPA) MIT Technology Conference – May 30 – MIT Media Lab – Cambridge, Massachusetts
The New England Motor Press Association and the Massachusetts Institute of Technology are hosting their eighth annual series of panel discussions of leading-edge automotive issues focused on the race to autonomous driving.
Southern Automotive Media Association's (SAMA) Topless in Miami presented by Haartz – May 31 – Key Biscayne, Florida
We can't wait for SAMA's Topless in Miami celebration on May 31. The Key Biscayne coastline will serve as the perfect backdrop as southern Florida's top automotive media just the hottest convertibles on the market today. While this is a members-only event, be sure to check in on our Twitter and Instagram, where we're hosting a social media competition for pictures that encompass the Miami convertible culture. There will be no shortage of convertibles at this event so we're looking forward to seeing lots of softtops and going on plenty of open-air drives.
Be sure to follow us on social media (Facebook, Twitter and Instagram) for all our on-site event updates, pictures and more.