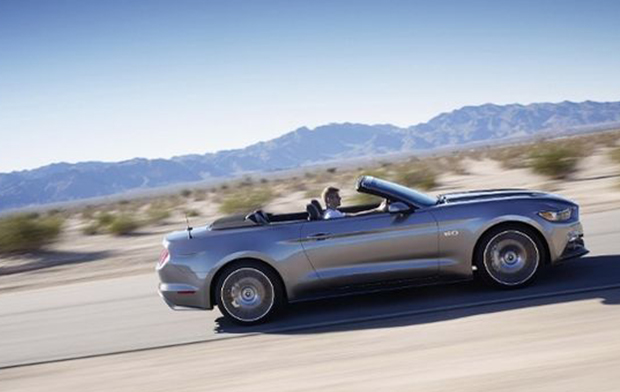 Haartz has supplied the topping material for the Mustang since 1983.
Acton, Mass. (April 16, 2014) – The all-new Mustang convertible is topped with The Haartz Corporation's Twillfast RPC. The 2015 Mustang was revealed Dec. 5, 2013 in six locations around the world: New York, Los Angeles, Shanghai, Sydney, Barcelona, Spain and Dearborn, Mich.; Today Ford placed a convertible on the 86th floor observation deck of the Empire State Building in recognition of the 50th anniversary of the iconic muscle car.
Haartz has supplied topping material for the Mustang since 1983. The Mustang used a Double Texture PVC topping material until the 1997 model year, when it switched to a Single Texture PVC.
In the 2006 model year, Ford began using the Haartz Twillfast RPC topping material, a cloth material. Twillfast RPC is an acoustically enhanced three-ply composite made of an acrylic twill weave outer fabric, a rubber inner layer and a polyester lining fabric. This unique material composition is designed to endure all temperature variations and weather conditions and allows drivers to enjoy a truly all-season vehicle.
"The Twillfast RPC material is a great fit for sports cars like the Mustang because of its acoustic optimization and luxurious look," said John Fox, president of Haartz. "We are honored to have the opportunity to work with Ford on this monumental vehicle."
The topping material for the Mustang will be produced in Haartz' Acton, Mass. facility.
Haartz topping materials can be customized to meet OEM specifications and design targets while maintaining superior acoustical and NVH (noise, vibration and harshness) performance and optimized trunk space when the top is down.
About The Haartz Corporation 
The Haartz Corporation (Haartz) is a world leader in highly engineered and uniquely designed convertible toppings and interior surface materials. The company's world headquarters and North American manufacturing operations are located in Acton, Mass., with additional manufacturing in Mannheim, Germany and coming soon to Pune, India.  Beyond these manufacturing locations, Haartz maintains sales offices in Detroit, Munich, Tokyo, Delhi, India and Chongqing, China.  Employing over 400 people worldwide, Haartz has been a trusted automotive supplier since 1907, and continues to be privately owned and operated by the Haartz family. For more information, visit www.haartz.com.