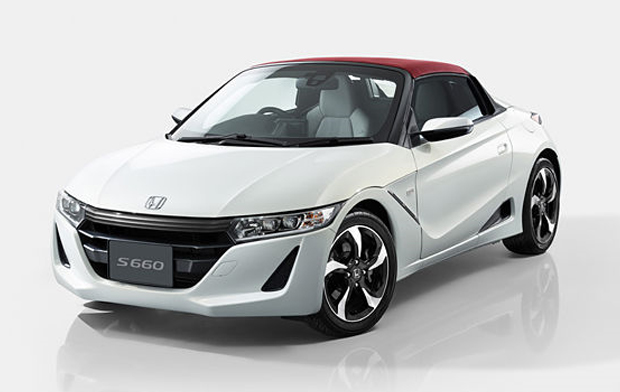 Honda S660 Open-Top Sports Car and Limited Quantity of the S660 CONCEPT EDITION Launched; Features Haartz Soft-Top Material
ACTON, Mass. (April 1, 2015) – Honda Motor Co., LTD launched the 2-seater open-top Honda S660 Sports Car and S660 CONCEPT EDITION to dealerships across Japan today. The S660 CONCEPT EDITION is a special edition selling only 660 units throughout Japan in celebration of the market launch of the S660. Both of these vehicles use the Stayfast ® C soft-top from The Haartz Corporation.
Called a "roll-top," this easily operated soft-top is detachable and lightweight which helps to maximize the cabin space adding to an exhilarating top-down cruise.
The Stayfast ® C soft-top has an acrylic square weave facing, rubber inner-layer, and filament polyester backing and comes in the color black for the S660.
Expanded from the Honda S660 CONCEPT unveiled at the Tokyo Motor Show in 2013, the S660 CONCEPT EDITION uses the Stayfast ® C soft-top in the color Bordeaux Red which is unique to the 660 units.
The topping material is manufactured and shipped out of Haartz' world headquarters and North American Manufacturing Operations in Acton, Massachusetts.
About The Haartz Corporation 
The Haartz Corporation (Haartz) is a world leader in highly engineered and uniquely designed convertible toppings and interior surface materials. The company's world headquarters and North American manufacturing operations are located in Acton, Mass., with additional manufacturing in Mannheim, Germany and coming soon to Pune, India.  Beyond these manufacturing locations, Haartz maintains sales offices in Detroit, Munich, Tokyo, Delhi, Shanghai and Chongqing, China.  Employing over 400 people worldwide, Haartz has been a trusted automotive supplier since 1907, and continues to be privately owned and operated by the Haartz family. For more information, visit www.haartz.com.