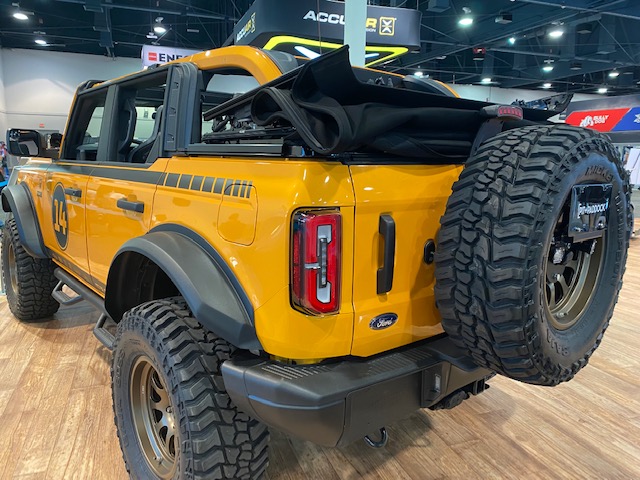 Posted Online (November 17, 2021) - The Haartz Corporation attended the 2021 Specialty Equipment Market Association (SEMA) Show November 1 - November 4, 2021, at the Las Vegas Convention Center. The massive trade show event allowed manufacturers and consumers to showcase their latest offerings, concepts and custom-made vehicles.
This year's in-person show allowed Haartz to experience thousands of new product innovations showcased by more than 1,300 new and iconic exhibitors while getting a hands-on look at the latest product and custom vehicle trends. The event also allowed Haartz the opportunity to interact with their customer base to gather input about custom specialty products like the Bluesky or Stayfast line of toppings as well as tonneau cover products.
Most importantly, SEMA allowed for a first-hand look at how many of their exteriors are incorporated in the design-build of custom and concept vehicles. Among those concept vehicles using Haartz toppings were variations of the Ford Bronco, Jeep Wrangler and the new GMC EV Hummer. All were outfitted with various Twillfast topping materials as well as tonneau truck bed covers. The GMC EV Hummer is fitted with the infiniti roof, displayed with modular sky panels that can be removed for open-air driving. On the custom side, vintage classics showcased included those sporting exteriors like the Stayfast topping.
Haartz' tonneau cover products were a major segment of innovation – with the twill-embossed Coverall™ product first shown on Fox Products RaZor Top – a line of truck covers with the ability to be raised and lowered – among other applications. 
"SEMA was such a great opportunity to see the breadth versatility of the topping materials we manufacture – both for OEM and aftermarket applications here at Haartz," stated Phil Hollenbeck, sales manager-automotive exteriors. "Whether equipped on a modern custom vehicle like the 2021 Ford Bronco or a classic like some of the vintage Chevrolets we saw on the floor, our line of toppings are perfect for OEM builds or custom designs."
Concluding on November 4, SEMA allowed Haartz to interact with peers, industry leaders and celebrities who were in attendance. For more information about some of the softtop materials showcased on many of the custom vehicles exhibited, please visit the exteriors section of our website.