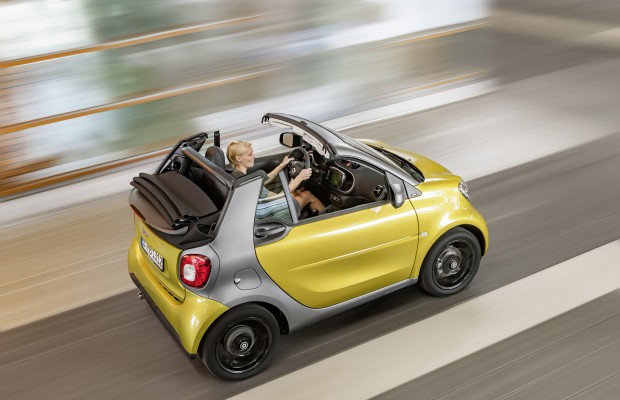 Details of 2016 Smart ForTwo Cabriolet Convertible Released Ahead of World Debut at the Frankfort Motor Show
Acton, Mass. (September 27, 2015) – The Haartz Corporation (Haartz), a leading global manufacturer of soft top convertible material, is supplying the convertible topping to the 2016 Smart ForTwo – an open-top two-seater convertible. Having a total thickness of 20 mm, this fabric "tritop" folding soft top opens in 12 seconds.
The vehicle features three different Haartz soft top material dependant on chosen color. Fabric includes the Landmark II, the Sonnenland A5.3M and the Sonnenland A5.3/HT.
Using a cut and sew process the Landmark II is a fabric laminate material comprised of an acrylic square weave facing and is available in the color black.
For those searching for a pop of color, the convertible soft top comes in grenadine red and uses the Haartz exclusive Sonnenland A5.3M material. It is a standard Sonnenland fabric laminate material with a woven solution-dyed acrylic facing and polyester dobby backing.
Available in the color denim blue, the Sonnenland A5.3/HT uses a lightweight neoprene rubber. A limited edition version of this material was also supplied to the last generation Smart ForTwo in a Landmark construction.
"Having three different Haartz soft topping material as features on the Smart ForTwo is something we as a company are delighted about," said Matt Williams, director of business development for Haartz. "We work to develop versatile material that caters to our many customers depending on their specific needs and this is a prime example."
The vehicle will arrive in dealerships come February 2016 and ordering will begin mid-November.
About The Haartz Corporation 
The Haartz Corporation (Haartz) is a world leader in highly engineered and uniquely designed convertible toppings and interior surface materials. The company's world headquarters and North American manufacturing operations are located in Acton, Massachusetts, with additional manufacturing in Mannheim, Germany and coming soon to Pune, India.  Beyond these manufacturing locations, Haartz maintains offices in Detroit, Munich, Tokyo, Delhi, Irapuato, Mexico, Shanghai and Chongqing, China.  Employing over 400 people worldwide, Haartz has been a trusted automotive supplier since 1907, and continues to be privately owned and operated by the Haartz family. For more information, visit www.haartz.com. Join the conversation on Twitter, @Haartz.